UK Police arm, the Surrey Police on Thursday, 19th July paraded Latvian Seregjs Teresko before the Kingston Crown Court on issues bothering money laundering and drug dealings.
The UK Police had while some time ago arrested Latvian and confiscated 295 bitcoin stored in his hardware wallet as part of a criminal probe. The Surrey Police further sold the seized 295 bitcoin into  Pounds (GBP). The bitcoin was estimated to worth 1.25 million pounds.
This development placed the UK Police the first ever to seize bitcoin and convert them to fiat currency. The Surrey Police stated the funds will be used to fund future operations of the Police command.
The actions of Surrey Police's fund pool follows the conclusion of a Proceeds of Crime Act hearing where  Latvian Seregjs Teresko was found to be the beneficiary of money laundering and drug dealing. The Kingston Crown Court ruled that Teresko had earned over £2,058,612.65, including the 295 confiscated Bitcoins, from his various criminal activities. The court also ruled that the Surrey Police will be allowed to keep 18.8% of the heist where over £250,000 was found in cash. Surrey Police said in an official tweet: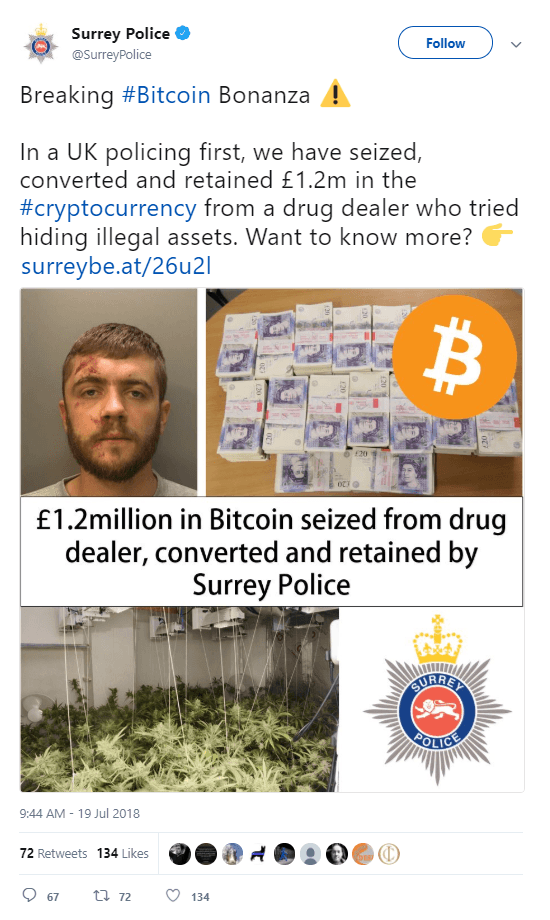 Seregjs Teresko's cannabis factory was discovered during an investigation after his partner and bystanders alarmed the Surrey Police about his kidnapping from a house in Virgina water in April 2017. Surrey Police also discovered others items such as jewelry, electronics, cash in Euros, Pounds, fake IDs and credit card.
Seregjs's arrest and findings led the police found his cryptocurrency hardware wallet where he kept the Bitcoins. Kingston Crown Court found him guilty of money laundering and drug dealings and jailed him for nine years and three months imprisonment.
Surrey Police have become the first law enforcers to convert Bitcoin into sterling and keep the proceeds under the Proceeds of Crime Act (POCA). Commenting further, Detective Inspector Matt Durkin said,
Cryptocurrency is used legitimately by a lot of people but it's also used by criminals. We know that in dark marketplaces Bitcoin is the chosen medium of exchange.
Meanwhile, Surrey Police has been commented for this discovery and challenged to ensure total crack down on drug dealers.